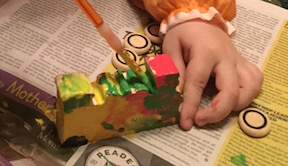 The Small Controller is three-and-a-half now, and I've noticed big improvements in dexterity lately. This has been apparent at the train table, with Duplo/MegaBloks, in play with figurines and, most particularly, when it comes to art.
Colouring within the lines may take some time yet, but making purposeful shapes in approximate relationship to one another to form, say, a train?
That is happening. Painting things, adding sparkles or stickers, and gluing things together are sure toddler pleasing activities these days.
Which brings us to the Melissa & Doug Create-a-Craft Train.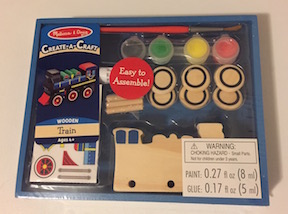 I've had this thing stashed in a box since Amazon convinced me it was a great add-on item two years ago. (It was actually a great add-on item, since it bumped me up to free shipping, but still, I knew even as I was ordering it that The Small Controller was nowhere near ready to make it at the time.)
It came out last week and was met with excited oohs and ahs. I let The Small Controller go wild, picking paint colours and dabbing them on wherever. We spent about fifteen minutes on it before it was deemed "all done". Or at least the paint job was – The Small Controller wanted to glue the wheels on right away. Now, now, now!
Art projects requiring patience are a new thing. Waiting for paint to dry has been around forever (or at least since one-and-a-half), but when it comes to a painting The Small Controller generally feels finished with the work in question. Patience, like strength and dexterity needs to be used to grow though, so I've been introducing some multi-stage projects recently – and explained, in this case, that if we handled the engine or its wheels while the paint was still wet it would smear and get on us, and on parts of the engine that had not been painted. My explanation was accepted and we moved on to bathtime and bed (art on bath night, repeat after me: art on bath night).
The wheels went on first thing in the morning. The Small Controller was able to push the axles through without assistance, though squeezing the glue out of the supplied tube became difficult as it emptied. We got the wheels on, added a bit more paint, and once again set it aside to dry.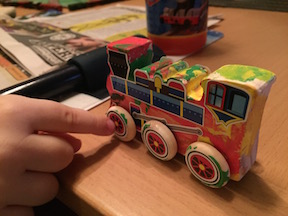 The final phase of adding stickers was actually more difficult than it needed to be … because it shouldn't have been the final phase. If I had looked more carefully at the pictures on the box I'd have seen that some of the stickers were under the wheels. The stickers should have gone on before the wheels were glued in place.
Nevertheless, The Small Controller was pleased with the results, because as parents must remember when doing arts and crafts with the short set: toddler. As fussy as they can be about some things The Small Controller wants fun from art projects, not perfection.
And frankly, as a parent, I've received pieces of art that I'm pretty sure a daycare provider made almost singlehandedly, and I have work that The Small Controller mashed and splashed together, giggling all the while. I know what I prefer, too.
We both really enjoyed the Create-a-Craft train. Enough so, that when The Small Controller is a bit older I expect I will ask if another would be fun. If we do one at four-and-a-half I'll report on that experience too.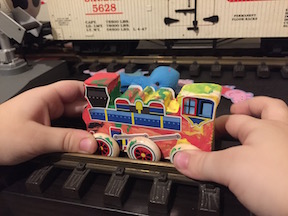 As for this one, for the moment it has a place of pride on a section of G scale track in The Small Controller's bedroom.