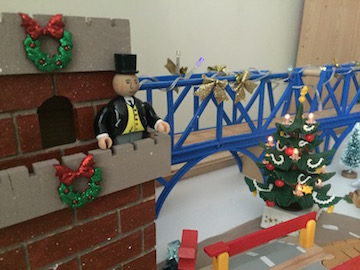 I began planning a winter train table set up for The Small Controller a year before it happened, which is why I'm posting this now. If it tickles your craft-funny bone, you may want to start looking for bargains and bits already for next year. (You may also be a super speedy craftster and whip up a winter theme for the reminder of the season, in any case, I hope this provides some inspiration.)
Snow, holiday lights, Christmas trees and decorations all are cause for joy in this house. I cannot tell you how many times last winter, when due to illness or really bad weather we couldn't go out, I was asked to bring snow inside the house. I'd fill a little sand bucket and dump it out on a waterproof mat (with towels nearby to absorb the puddles that form), and the trains (notably Hiro) would run into the snow.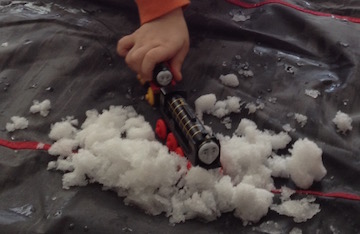 I'm sure we'll be doing that again, as it is really its own experience, but my point is TSC loves winter. LOVES.
When I saw Playmobile's 4892 set, including a Christmas tree with working lights, on sale after the holidays (2015) I didn't really have to think about it. The tree is a self-contained unit that stands on its battery pack, so there are no wires. It turns on by a small black button that is neither too difficult to depress, nor so close to the tree that it requires a lot of dexterity. I don't know if this same set will continue to be available, but if the folks at Playmobile are smart this tree will appear in other sets too. It is well designed (thought it has small pieces, so is most appropriate for the toddler who no longer needs to mouth-test everything), and as a bonus switches itself off after five minutes. This both saves on batteries and meant that The Small Controller could use it as a timer when I would say "Five minutes until bath time" or whatever it was that was going to interrupt playtime.
The tree is what got the snowball rolling for me, but of course you don't need a Christmas tree to make your train table a winter wonderland. We happen to celebrate Christmas, so it makes sense for us, but the only thing everyone needs is snow. That means a new mat.
The material I used for the mat is a white foam roll, sold at Michaels Arts and Crafts*. It is $12.99 here in Canada, and you can paint both sides without any difficulty (I made an autumn/harvest set-up before doing winter, painted the whole thing browns and greens and there is not a single point of leakage). The foam doesn't wrinkle, fray or tear easily; you can cut it to whatever size your train table needs; and it holds the paint well, allowing it to absorb slightly so that it doesn't crack or peel even with rough play.
I opted for simple for the winter paint job, and didn't try to shade in snow banks or paint a lot of half-covered bushes or anything. The Small Controller is three, which means snow is white. I wanted an icy pond (ponds are always good accident settings, plus we just got Skiff so some water seemed a good idea) and, because the railway crossing is probably The Small Controller's favourite feature on the train table at the moment, I knew there had to be a road.
I used four colours. Deco Art's Americana brand in Pebble, and Craft Smart Multi-Surface Premium Metallic Icy Blue, Premium Glitter Sparkling Ice and Premium Satin White. Pebble I had bought to make a construction site on the autumn set up, and used it here to make a road. It isn't a match to the grey road on our Brio railway crossing, but it is close enough and is a very versatile colour that I know I'll use again. The Sparkling Ice I really can't recommend enough. It isn't overwhelmingly sparkly, just that slight glitter of fresh snow. Icy Blue made quite a nice pond and white was, well, white. I used it to give the pond an impression of being snow swept, as well as putting lines on the road.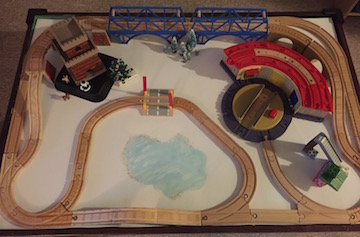 I created a layout featuring The Small Controller's must-haves (the crossing, a layer of sheds that does double duty as the Steamworks) and a few other points of interest, and then plotted the paint. I actually did the painting on the train table while TSC was out with Dad for a few hours, using small sponges and two sizes of brush (mostly for the road, since it needed more solid colour). I wasn't sure if I would have to remove the mat and let it dry elsewhere, but drying was quite fast, even for the road.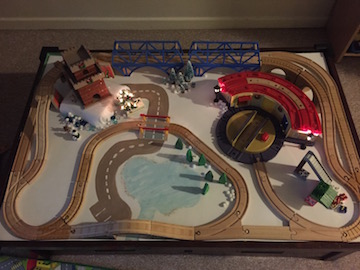 I could do a step-by-step for my pond, but the reality is you are painting this for a toddler. Simple is fine. Snow is white. Water is blue. Twisting the sponge on the metallic blue paint gave the pond a nice texture. Making streaks of white and smearing them made it look lovely and snow swept.  I did some scruffy work in Pebble at the edges of the pond for definition.  Probably not necessary but we'd done ponds with rocks and trees by the edges before, so it was building on that.
I also picked up small white craft pom-poms (purchasable at Michaels and other craft stores, some dollar stores). We'd used the orange version as pumpkins for the autumn table. They make excellent cargo if you have gondola-style cars, and if your tot has trains with plows and toy construction vehicles, or better yet a vaguely-to-scale snowplow (Siku and Matchbox make them, I'm sure there are others – you can probably pick one up for $2-to-5), they are very fun to push around. **  I picked up some clear, pale blue and blue decorative gems for the same purpose, but they were ignored. They weren't warm and fuzzy, and didn't stick to one another and roll around like the pom-poms, plus they were a little big for loading into the train cars (you could fit a few, but nothing like the mounds of little snowballs). Next year they may grace some other decoration around the house. I don't think they'll return to the train table.
The final cargo item was some tiny foil wrapped gifts. We have MegaBloks trains as well as wooden, and picked up Percy Delivers the Mail for $6, which gave the table a mail station. Packages were picked up there and delivered to the castle where the tree had been set up.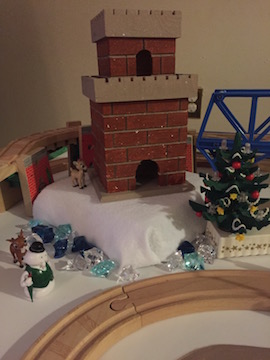 I decided to add a building or two. I picked up a castle birdhouse at Michael's because I reasoned that it could be used any time of year (and certainly at Halloween), and castles feature in so many Thomas storylines that having one might ignite some play ideas. I used the aforementioned Pebble as mortar and stonework, CraftSmart Burnt Sienna for the brick and dipped an old toothbrush in slightly watered down white to flick at it to get a bit of a snow effect. Finally I positioned it on top of a bakery cake container – one of those black plastic ones the city doesn't recycle yet – that I had covered in white felt (taped to the underside after white glue didn't work – hot glue might have done the job just as well but I was leery of melted plastic vapours – packing tape did the job admirably).   The castle was now on a snowy hill.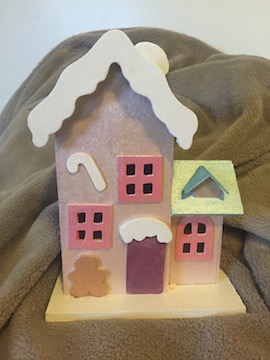 The second building was a kind of silly house from the dollar store with snow on the roof and gingerbread man and candy cane motifs. I wound up setting up the winter railway before I had time to paint this one, so asked The Small Controller to choose colours: Icy Blue, White, and Sparkling Ice came in to use again, as well as Martha Stewart Pearl Antique Silk, Martha Stewart Rose Gold, Martha Stewart Camella Pink (with a coat of Sparkling Ice over it), and Folk Art Extreme Glitter Purple.   It has been used as a station.
Stickers were added to the castle and roundhouse. I got some puffy 3D wreaths since I was going for a Christmas theme and managed in my haste to put them all on upside down (ribbons at the top seemed right, but if you look at how they flow they are clearly meant to be on the bottom, ah well!), but there are lots of lovely non-denominational stickers buried in the Christmas piles: snowmen or snowflakes are usually easy to find, cardinals are out there if you look hard enough, as are other winter scenery pieces.
We already had some wooden evergreens, but I got some additional winter scenery in the form of a pack of Lemax snow covered trees (Michaels again) and working streetlamps (Dollarama). The trees I was a bit worried about since they aren't really playthings, but they have stood up remarkably well and The Small Controller has never been injured handling them – and they do get handled. They get delivered all over the place and eventually returned to "the forest". The streetlamps were a mistake – not because The Small Controller couldn't handle having something immovable on the table (I ran the wires under the roundhouse), but because they eat batteries. The lamps cost $3. The Lemax version was more like $15 or $20, but, assuming they are more efficient, they'd have been cheaper in the long run. I'm thinking these ones may have their wires removed and become set decoration only.
On the other hand, I bought a string of battery-pack powered multicoloured mini lights at Dollarama that were fantastic. I strung them around the Sodor suspension bridge, and they were lovely. Three AA batteries lasted us from late November until early February, and some days they were on a lot. Sadly, they no longer make the suspension bridge – if you are going to use real lights they must be firmly attached to something that isn't moving – preferably they are wound around at least part of the object so that the string really can't come away. As an alternative Jolee make a scrapbooking sticker string of lights that I could have put on the castle or roundhouse. They don't light up, but they are colourful and reasonably to scale.
The winter effect was rounded out with some winter animals in the forest (these came both from Kinder Surprise eggs and Schliech) and figures from the My Busy Books Rudolph the Red Nosed Reindeer set (often on sale at Winners and Chapters-Indigo) which I had to buy because it had a snowman and, as I might have mentioned, The Small Controller LOVES snow.
The winter table was set up a few days ahead of schedule when The Small Controller got sick at the end of November. It was met with genuine excitement and has inspired many stories and games, as well as discussion about the seasons and how they affect plants, animals and trains.
You don't have to be a particularly skilled crafter to do something like this. I purchased most of the elements of the table because I felt the ready-made would stand up to play better than something I could make (if you are handy at woodcraft your mileage may vary, and do you live nearby??). Really, you just need a sense of what will thrill your tot, combined with what at their stage they can play with safely. There are lots of chunky, tough plastic or wooden things appropriate for a child more prone to throwing (or with a younger sibling who likes to join in the fun), and similarly with a more dexterous and calm child there are lots of other more delicate things in the crafts aisles. Have fun!
And don't be afraid to start hoarding! Lots of red and white craft supplies are about to go on sale post-Valentine's Day (possibly including little white pom-poms), and Michael's has a wide variety of birdhouses – I'm talking space rockets, pirate ships, castles of a more Frozenesque style than what I used – that often go on sale in the spring. Of course, you don't have to wait until next year to do a special train table – I took my first request and unless something changes, should have a springtime train table featuring a zoo to show soon.
* The foam mats are also available in black, and I have one of those for a spooky Halloween themed table next year. TSC is just getting into enjoying spooky, so by next year is likely to be primed for it.
** Fisher Price is continuing their practice of web-exclusive trains with a rotary snowplow engine named Dustin new for 2016.   You can see him here. He can be purchased with a book, or in a large track set that also includes the book. You can also get a Percy with a snowplow with a different Dustin book and a track feature that looks like a satellite dish (presumably a weather tracking station). The web exclusives cost more than I tend to pay for The Small Controller's train gear, but I include the info here because rotary snowplows are all kinds of awesome, and I know some kids would be over the moon for this (including TSC). If I break down and order I promise to review it.